Portfolio of Vacation Rental Floor Plans?
Las Vegas Rental Home Floor Plan Creator Portfolio for AirBnB Floor Plans & VRBO Floor Plans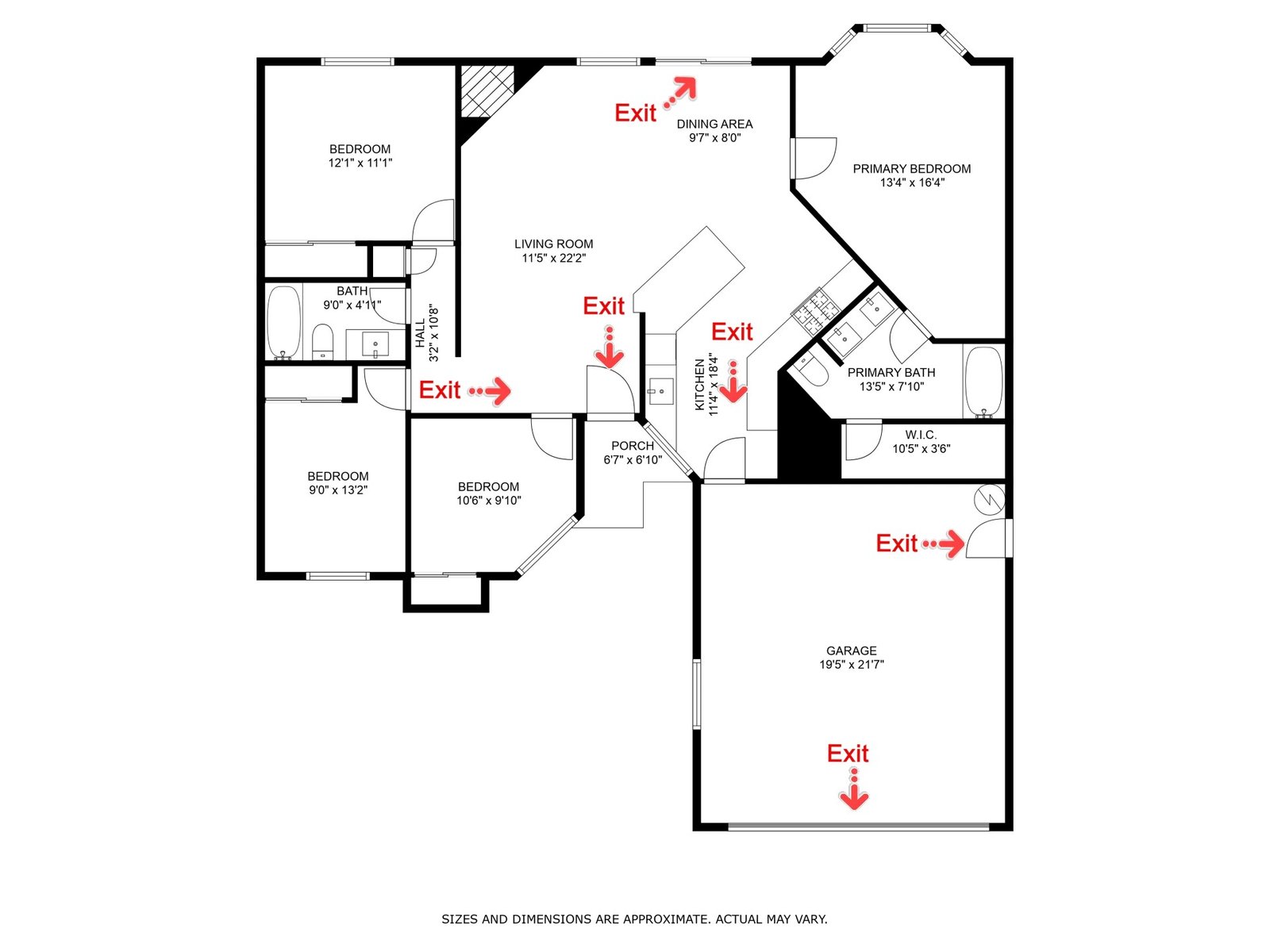 Welcome to my Vacation Rental Photography Services portfolio page in Las Vegas, NV. As a professional real estate photographer, I offer a range of specialized services to elevate your vacation rental's appeal on popular short-term rental platforms like AirBnB and VRBO. Just as I capture stunning images of properties, I also provide top-notch Floor Plan services that add value and clarity to your listing.
My Floor Plan services cater to your specific needs and preferences, ensuring that potential guests can easily visualize the layout and dimensions of your rental space. I offer two types of black and white Floor Plans: those with dimensions, providing precise measurements of each room and area, and those without dimensions for a clean and minimalist look.
For those seeking a more vibrant representation of their property, I also offer Colored Floor Plans. These visually engaging plans add an extra layer of appeal to your vacation rental's listing, making it stand out and piquing the interest of potential guests.
But that's not all – I go a step further to provide cutting-edge 3D Floor Plans. These immersive and interactive floor plans give prospective renters a realistic view of your rental space, enabling them to navigate and explore the property virtually. In addition, I can incorporate fire arrows into the floor plans, guiding guests to the nearest exits, ensuring their safety while also meeting any vacation rental requirements.
Just like my real estate photography packages, my vacation rental packages are designed to be flexible and comprehensive. Depending on your property's size and unique features, I offer different package options to suit your needs. Whether you prefer to capture the essential spaces or every intricate detail, I've got you covered.
My dedication to efficiency remains unwavering in my Floor Plan services. Much like my real estate photography, I strive to deliver quick turnaround times, with most floor plans completed within 24 hours. You can trust that I will provide high-quality visuals that perfectly complement your vacation rental listing, helping you attract more guests and maximize your rental's potential.
When you choose my vacation rental photography and Floor Plan services, you set yourself apart from the competition. The compelling images and detailed floor plans will undoubtedly evoke the desired emotional response from potential renters, making them more likely to choose your property for their next vacation.
Don't miss the opportunity to elevate your vacation rental's appeal and enhance its listing with professional photography and detailed floor plans. Contact me today to schedule your vacation rental photography and Floor Plan shoot in Las Vegas, NV, and let's make your property shine in the digital marketplace.
Professional Grade Vacation Rental Listing Floor Plans
When preparing the home for the floor plan, please clean and declutter as much as possible. I highly recommend that homeowners, contractors and housekeeps not be present during the shoot to avoid longer shoot times, interrupted workflow, and forgotten spaces. I encourage clear or minimize bathroom vanities, and ensure all light bulbs are working. Many floor plans need to be created prior to the home being ready and I can accomidate. I will need access to all locked doors and garages. Patios and balconies can be included upon request.
All of my photo shoots are done using HDR brackets, a process of using natural ambient light, followed by overexposed lighting and then underexposed lighting. This technique ensures accurate color representation of the space, eliminates some shadows, and brightens unlit walls. Many times, it allows us to look out the window instead of having the entire view blown out. The delivered photos range in number, depending on the property size.
All of my shoots offer low-res internet resolution download for easy uploading onto web platforms like AirBnB & VRBO. Additionally, high-resolution print quality downloads are available upon request prior to the photo shoot. With my photography services, you can be sure that you'll receive quality images and floor plans that meet or exceed your expectations. Contact me today to order your professional real estate photography for vacationn rental homes.
Add Community Photos to your Vacation Rental
Professional Real Estate Photography Checklist
Is Your Professional Real Estate Photography being Shot by a Pro?
Photomills are middle man advertising companies who hit me up all the time asking me to shoot real estate photos for next to nothing. These jobs are for kids just out of college or stay at home mothers who wish to fill time while their kids are at school. Are you getting a person who clicks a button on camera for a photo mill company from somewhere else or a true professional who understands light, depth, real estate marketing and what attracts Home Buyers in Southern Nevada?
Past Professional Real Estate Photography Accomplishments
Michaels Real Estate Photography Experience
I have kept a Nevada Real Estate license alive since February 2006 that is still active today. I was recruited to advertise Bank Owned Homes for multiple brokerages following the housing crash of  2008. During that time I moved up to being a Marketing Director and managing a buyer team for the brokerages. I matched up the marketing the agents needed to help show off the properties they would show. In turn, I would learn what marketing was effective and what was not effective in helping the agents generate leads. All while keeping the banks happy with the advertising and offer results that came back to their desks.
I was the sole virtual tour provider for new home builders like Lennar Homes and Luxury Estates & Development. 
I was the sole photographer shooting listing photos for the Zillow Offers Home Sales in Las Vegas. My tasks started as simply taking photos and Zillow 3D tours. I quickly picked found myself reporting back issues with the homes missed by their own agents and contractors. I began filming walk through inspection videos of their new home inventory, taking measurements and collecting data to help market the homes on the MLS along with my photos shoots.   
I picked up a Part 107 license to legally fly drones for marketing pictures. Below are some other classes I have taken over the years to keep current on Real Estate Photography.
| | | | |
| --- | --- | --- | --- |
| Real Estate Photography | Exploring Photography: Exposure and Dynamic Range | VR Photography and Video | Landscape Photography: Wide-Angle Lenses |
| Real Estate Photography: Master Bathrooms | Internet Marketing | Travel Photography | Photography Business: The Basics |
| Enhancing a Sunset Photograph with Lightroom and Photoshop | Marketing Pricing and Client Relations | Drones versus Planes | Photography Foundations: Exposure |
| Photography: Lightroom Classic CC and Photoshop | Shooting in Low Light | Real Estate Photography: Exterior at Twilight | Introduction to Photography |
Professional Real Estate Photography Questions